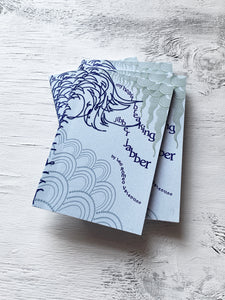 my heartbreaking jibberjabber by Leo Romeo Valentino
my heartbreaking jibberjabber is a moving and wild collection of poems depicting the real and the fantastic, the romantic and the violent, the celestial and the here-on-the-ground truth. Under a new identity and voice, the poet Leo Romeo Valentino (a.k.a. Daniel Vidal Soto) innovates poetry itself with a hitherto unseen juxtaposition of poetic styles, overlaying internal rhyme and metrical patterns into what seems at first like free verse poetry. The work sometimes feels like it's written by multiple poets at once, but it's all him, and you can only tell because each time it's uniquely brilliant in the same way.
Leo Romeo Valentino is a poet, musician, and designer currently living in the Bronx, New York.
5.5 x 8 inches
Paperback
Perfect Binding
Letterpress, Inkjet
April 2022
ISBN: 978-1-956639-02-5
Cover Design by Robert St. John
Layout Design by Sophie Bloomfield
Letterpress Printed by Everybody Press at the Center for Book Arts, New York
Inkjet and Perfect Binding by our staff at Everybody Press in Industry City

SHIPMENTS ARE DELAYED UNTIL LATE 2023