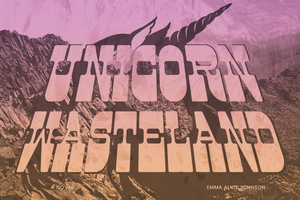 Unicorn Wasteland by Emma Alice Johnson (audiobook)
In Unicorn Wasteland, Emma Alice Johnson's protagonist, Maria rides into the story on a unicorn, dragging behind her a wooden coffin, the contents of which are not revealed to the reader, but which she guards with her life from the terrors of the hostile world around. This is a novella that uses genre fiction elements from low-budget Western movies, fantasy novels, and science fiction monsters to tell a story about a trans woman confronting her own identity to deliver a message to her mother that she's waited a long time to tell.
About the audiobook
This audiobook edition is narrated by Eileen Noonan and produced by Amon Ito.

When you purchase the audiobook, you will receive a unique email with a link and instructions on how to listen to it within a few minutes. You can either stream the audiobook online or follow the instructions to listen to it on nearly any major podcast app on your mobile device, such as Apple Podcasts, Google Podcasts, Castro, Overcast, etc. Any of these platforms will automatically save your progress through the book so it's not necessary to skip around to find your place between listenings. The audiobook is also available for purchase as an MP3 Zip Download file.
About the author
Emma Alice Johnson lives in the woods where she grows wildflowers and talks to bees and butterflies. Sometimes she also writes.
Unicorn Wasteland is also available in print.