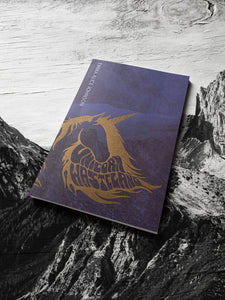 Unicorn Wasteland by Emma Alice Johnson
In Unicorn Wasteland, Emma Alice Johnson's protagonist, Maria rides into the story on a unicorn, dragging behind her a wooden coffin, the contents of which are not revealed to the reader, but which she guards with her life from the terrors of the hostile world around. This is a novella that uses genre fiction elements from low-budget Western movies, fantasy novels, and science fiction monsters to tell a story about a trans woman confronting her own identity to deliver a message to her mother that she's waited a long time to tell.
Emma Alice Johnson lives in the woods of Wisconsin where she grows wildflowers and talks to bees and butterflies. Sometimes she also writes. She is a two time Wonderland Book Award-winner. Over the last 20 years, her fiction has appeared in The Dark, Dark Discoveries, Year's Best Hardcore Horror and many other publications. It has garnered acclaim from Publisher's Weekly, Hellnotes, Horror News and more. She has created a wide variety of zines, mostly about punk rock and monsters. She is a regular contributor to long-running DIY punk zine Razorcake. Her most recent work Unicorn Wasteland (2021) is available now via Everybody Press.
5.5 x 8 inches
Paperback
Perfect Binding
First Print: Foil Stamp, Inkjet
Second Print: Letterpress, Inkjet
November 2021
ISBN: 978-956639-01-8

Cover Design by Mahya Soltani
Layout Design by Jil Crary-Ross
Letterpress Printed by Everybody Press at the Center for Book Arts, New York
Foil Stamp, Inkjet, and Perfect Binding by our staff at Everybody Press in Industry City