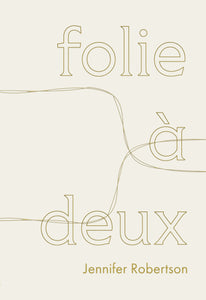 Folie á Deux by Jennifer Robertson
Folie à Deux is the debut collection of poems by Indian poet Jennifer Robertson. Influenced by film, visual art, literature, and music, Robertson draws meaning from raw language to paint a unique, expressive landscape of experience, intimacy, and understanding.
"Lexically restless, geodesic, and unapologetically omnivorous, Jennifer Robertson's Folie à deux is a dialectic that considers the fulcra of observance and animacy, liberation and stagnancy, tranquility and obsession. Robertson's poetry applies a painterly heat to our bodies, and dares readers to scratch at persona, and to map a self through the historical detritus of art and signs. What disturbs me most about this book is that, ravenously, Robertson "reinvents time travel."
—Jhani Randhawa, author of Time Regime
Jennifer Robertson is a poet, critic, and consultant based in Bombay. Her poems have been published in the US, UK, and India: Poetry magazine (USA), Emma Press (UK), The Missing Slate (USA), Domus (India), Almost Island (India) and others. Many of her poems have been widely anthologized: 40 Under 40: An Anthology Of Post-Globalization Poetry; Modern English Poetry by Younger Indians published by Sahitya Akademi and The Penguin Book of Indian Poets. Her critical essays on poetry have appeared in The American Book Review, Scroll, The Telegraph, Vayavya and elsewhere. Jennifer has convened the literary chapter for the PEN All-India Centre at Prithvi Theatre. She conceptualized and curated the Le Sutra Literature and Arts Festival in 2018. Her debut poetry collection, Folie à Deux, is forthcoming in the USA via Everybody Press, and India via Paperwall Publishing.
5.5 x 8 inches
Paperback
Perfect Binding
Letterpress, Inkjet
September 26th, 2023
ISBN: 978-1-956639-12-4
Cover and Flyleaf Design by Rhonda Khalifeh

Layout Design by Lara Atallah, Kamelya Omayma Youssef and Tilghman Alexander Goldsborough

Letterpress Printed by Everybody Press at the Center for Book Arts, New York.
Inkjet and Perfect Binding by our staff at Everybody Press in Industry City.
SHIPMENTS ARE DELAYED UNTIL LATE 2023